JANIKA & AMEERA N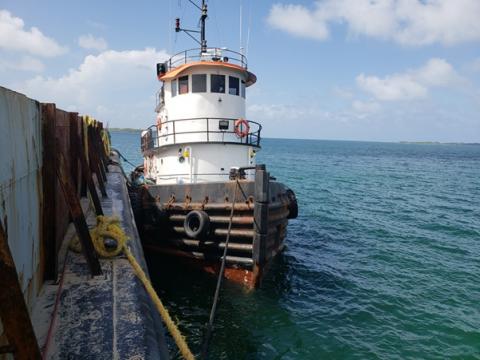 Ship's particulars
| | |
| --- | --- |
| Name: | Type of Vessel: Tug & Barge |
| IMO No: | Kiel date: 1961 & 1975 |
| Call Sign: 5VFQ7 | Gross Tonnage: 179.85 & 719 |
| Flag: Togolese Republic | ISM Company: |
| Classification Society / RO: CONRINA | Owner: |
Summary of Inspection:
•
The Tug JANIKA and Barge AMEERA N called into Parham Harbour in Antigua to remove water from a hold in the barge enroute from the sister island Barbuda. Foreign flagged vessels are not allowed to operate on commercial trade in Antigua and Barbuda waters. They were selected for inspection because it was sighted alongside presumably engaged in works in an unsafe condition. 
•
24 deficiencies were recorded some of which are noted below :
o
No safe access or boarding ladder provided
o
fwd & prt lifebuoys grablines deteriorated
o
stb liferaft cradle seized and port liferaft cradle damaged
o
stb watertight door dogs seized
o
engine room vent (wheelhouse top) gasket damaged and hinges not operable
o
Aft engine room escape door seized and blocked
o
No quick release on towline available
o
fwd hatch gasket damaged and dogs missing
o
Port fwd fuel vent cover hinge broken and toggle seized
o
liferaft casing not properly marked
o
handheld flares, parachute flares and buoyant orange smoke expired
o
Emergency fire pump hose leaking
o
No stability information available onboard
o
Rungs on ladder located near lower storage area severely corroded.
•
detainable items noted were:
o
safety certification (SCV /CCSSC/equivalent) missing
o
All HRU's incorrectly installed and crew had no knowledge of the safety function and/or installation requirements 
o
Structural wastage of frames , beams and hull plating in forward starboard tank of the Barge with leakage from hull plating wastage 
Notices of Detention in respect of tug JANIKA and barge AMEERA N were issued on 16 October 2018 and in both cases, the PSC inspection was suspended, due to the high number of deficiencies on tug JANIKA and the structural wastage noted on barge AMEERA N. 
Copies of the PSC Inspection Forms were also forwarded to RO (Conarina Nacional) and flag state (Togo) 
Inspection Information:
An initial inspection revealed that the tug JANIKA had no valid Certification and the barge AMEERA N was in a very unsafe condition. As a result a more detailed inspection was conducted and both vessels were subsequently detained
The tug recently changed flag but still had on board Certificates from the previous flag. The previous flag was Antigua and Barbuda.
The master was only able to provide a provisional Certificate of registry (Togo) for both vessels and a list of outstanding deficiencies from an inspection carried out by CONRINA in March 2018. No stability information was found on board. After a general walk around and several deficiencies were noted a decision was made to suspend the inspection after it was clearly evident that flag state intervention was required.
Pictures of Deficiencies Identified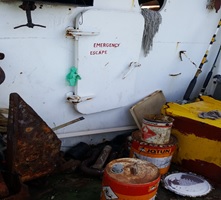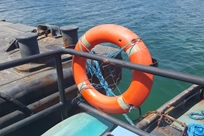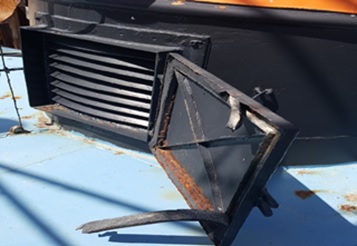 Aft engine room escape door seized and blocked                           Grab Lines Missing                                                       Engine room vent gasket damaged and hinges not operable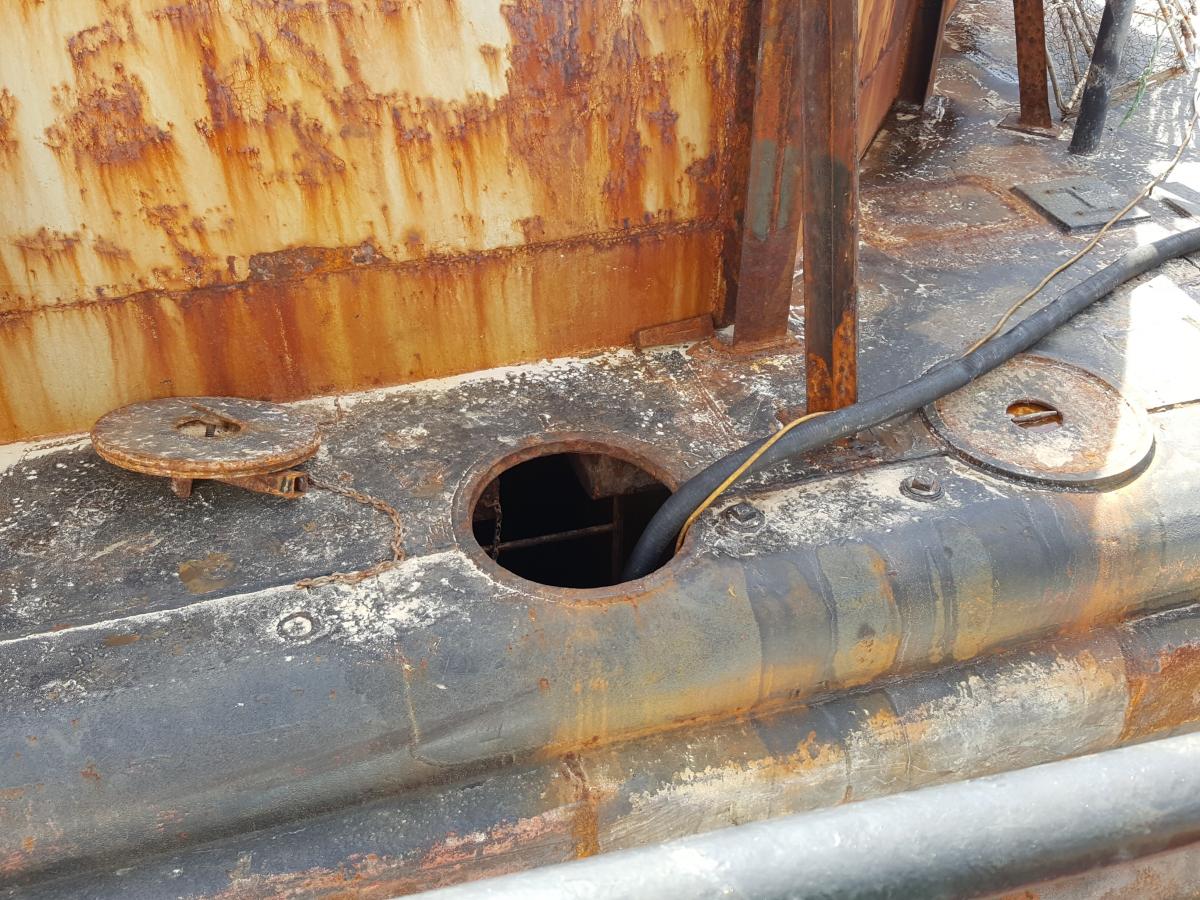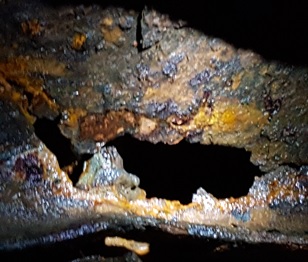 Structural wastage of frames, beams and hull plating in forward starboard tank - Barge
Detention follow up:
A response was received from Conarina Nacional shortly after the Notices of detention were issued. They coordinated with the Flag State to inspect both vessels as soon as possible, in order to deal with the serious deficiencies found. On October 29 and December 13, 2018 the CORINA Group, performed inspections on board the tug JANIKA and barge AMEERA N to verify the fulfilment of pending deficiencies, listed by Antigua & Barbuda Port State Control report, on October 16, 2018, in Port of Parham, Antigua & Barbuda. A visual inspection of all internal compartments of the barge to evaluate their structural condition was conducted. The results of this inspection was then sent to the port state in statements of fact. The side shell plating crack found by the PSC at the junction between the bottom plating and the starboard side plating was solved by means of a temporary epoxy resin patch, to prevent the water ingress into the compartment. According to the visual inspection carried out, CONARINA Group considered that the barge's structural integrity was unsatisfactory due to the deplorable conditions of their structural elements. The unsatisfactory condition of the structural elements (longitudinal frames, side stringer, frames, stiffeners, and transversal bulkheads) was due to accelerated corrosion. This also caused the appearance of cracks, perforations, and loss continuity of the elements which compromised the structural safety of the barge. Deformations and cracks of several elements of the bottom (longitudinals) apparently caused by stress were observed. At the time of inspection all interior compartments were found dry.
Recommendations were made for the barge to be submitted to repair on dry dock to restore the lost safety condition; under supervision of a Class Surveyor. The materials (Steel Plate, welding electrodes) were required to have their respective approval certificates and the personnel that will carry out repairs (welders, etc.) were required to be certified by a Recognized Organization.
Additionally the side-shell and bottom plating were to be subjected to a thickness gauging according to surveyor indications and proceed according to results.
A majority of the deficiencies on tug JANIKA were rectified except for the provision of the stability booklet which was given a code 47 "as in agreed class condition"
Release:
A full technical review of the reports for both AMEERA N and JANIKA was then completed by the attending PSC officer. Following survey of tug JANIKA, with corrective actions, RO (Conarina Nacional) on behalf of Republic of Togo issued interim SCV Certification and Seaworthiness Certificate, valid until 17 May 2019. In respect of barge AMEERA N, Conarina issued a conditional ILLC valid until 2 January 2019, to cover single voyage, in ballast condition to drydock in Martinique. Suitable weather/sea state window and voyage planning were to be included.
Notices of Release from Detention, in respect of tug JANIKA and barge AMEERA N were issued on 20 December 2018.